4.5 Webcam Functions(Teacher and Student)
There are many features on student's webcam side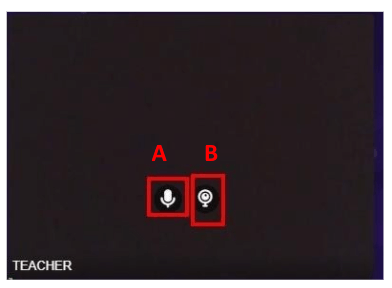 Teacher's webcam
A. Click Microphone On/Off
B. Click Video On/Off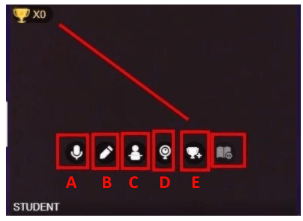 Student's webcam
A. Click Microphone On/Off
B. Click "No Operation" – removes Tool functions for students
C. Click "Not Speaking" removes all functions for students don't click this during class
D. Click Video On/Off
E. Reward System – # of rewards will show in the trophy icon on the top left of the student's webcam
When you click on the Reward System Function, you can choose  from different types of rewards. When you click on one, it will be  displayed on the whiteboard with animation and sound effects.
– The number of rewards will also be reflected of the top left part of your student's webcam view; you can also deduct rewards by  clicking on the reward icon.
– Utilize this tool well especially with your junior students.